Home Comfort Systems - Mini Split Repair Services
If you need repair for your mini split system then there's only one contractor to call in Upstate South Carolina - Home Comfort Systems. We've been servicing and installing mini split heat pumps for years, and have more mini split experience compared to your average heating and air conditioning company. We take pride in always putting the customer first during our service calls, and can provide upfront quotes for your needed repair. Our technicians always arrive on time, are courteous, and will get your repair done correctly the first time.
Here are some of the mini split repair related issues we commonly deal with in Greenwood and the surrounding areas:
Installation Related Issues
Improper sizing: If a heating and cooling unit is too small, it will fail to heat or cool in extreme weather. If it is too big, it will cycle on its lowest output setting and fail to dehumidify the air properly.
Condensation Leaks: Systems that leak water from inside or pool where they do not belong are typically caused by units being installed out of level, or crimped or obstructed condensate lines.
Capacity Losses Over Time: Unsafe installation or mechanical damage of refrigeration lines can result in slow leaks of system refrigerant. This causes reduced capacity over time typically within the first year or two of installation.
Issues Caused by Lack of Maintenance
Dirty indoor or outdoor coils:

Changes in heating or cooling capacity over time.
Noisy operation indoors
Outdoor Unit Fails to Start
A loud outdoor unit may indicate a motor, compressor, or reversing system failure.
Incorrect wire or circuit breaker sizing, a tripped fuse can cause failure to start. Diagnose the issue completely to prevent recurrence.
The indoor zone is failing to start may be caused by loose or faulty control wiring, or obstructed or failed IR receiver.
Schedule Mini-Split Repair
10% Off
Repair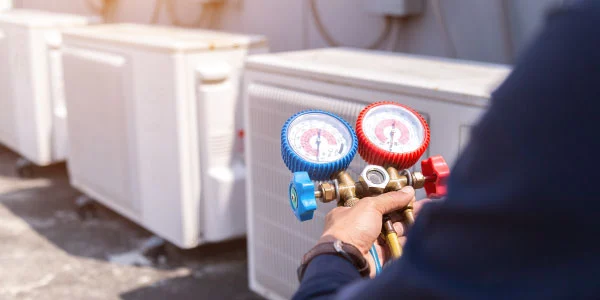 10% Off Any plumbing, heating, AC or generator repair
Contact to Book
Ductless Mini-Split Installations in Upstate and Midland SC
Sometimes the best thing to do for a mini split unit that is old, has had lack of maintenance, and needs a costly repair to keep running is to replace it with a new model. The mini splits being manufactured by Mitsubishi today are some of the most efficient heating and cooling systems available ever. We install and replace mini split heat pumps with top of the line Mitsubishi models.
We stock a full line, from single zone to multi zone systems. A new Mitsubishi mini split unit will provide endless comfort no matter the season here in South Carolina, and with seriously reduced energy consumption compared to your old model. Get in touch with our team today to learn about what Mitsubishi mini split is the perfect fit for your Greenwood area home or business.