Daikin Ductless system features include: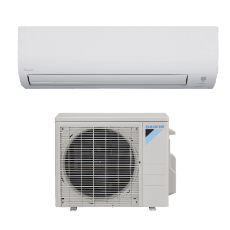 Daikin mini split units are available in various capacities to suit different room sizes and heating/cooling requirements. The cooling capacity is measured in British Thermal Units (BTUs), and the heating capacity is typically measured in BTUs or Heating Seasonal Performance Factor (HSPF).
Daikin mini split units are designed to provide energy-efficient heating and cooling. The energy efficiency is often indicated by the Seasonal Energy Efficiency Ratio (SEER) for cooling and the HSPF for heating. Higher SEER and HSPF ratings indicate better energy efficiency.
Airflow: The airflow capacity of a Daikin mini split unit is measured in cubic feet per minute (CFM). It indicates the volume of air that the unit can deliver or circulate within a specific time frame. Proper airflow is essential for efficient operation and optimal comfort.
2Noise Levels: Daikin mini split units are known for their quiet operation. The noise levels are measured in decibels (dB), and you'll typically find specifications for both indoor and outdoor units. Lower dB ratings indicate quieter operation, ensuring a peaceful indoor environment.
Indoor Unit Design: Daikin offers a variety of indoor unit designs, including wall-mounted, ceiling cassette, floor-mounted, and concealed duct units. The specific design options may vary depending on the model and series. Different designs cater to various installation preferences and aesthetics.
Control Options: Daikin mini split units come with different control options, ranging from basic handheld remote controllers to advanced smart Wi-Fi-enabled controls. These controls allow you to adjust temperature settings, fan speed, timers, and other settings conveniently.
Discover the ultimate solution for personalized comfort in your home with Daikin Mini Split Systems, proudly offered by Home Comfort Systems. Daikin is a renowned leader in the HVAC industry, known for their innovative technology and superior performance. With Daikin Mini Split Systems, you can experience precise temperature control, energy efficiency, and whisper-quiet operation. Read on to learn more about the remarkable benefits of Daikin Mini Split Systems and why they are the ideal choice for your heating and cooling needs.
Daikin Mini Split Systems incorporate advanced filtration systems that actively purify the air, removing allergens, dust, pollen, and other particles. With these systems, you can enjoy cleaner and healthier indoor air, reducing the risk of allergies and respiratory issues. Breathe in fresh, clean air and create a healthier living environment for you and your loved ones.
Our team of trained professionals at Home Comfort Systems specializes in the installation and maintenance of Daikin Mini Split Systems. We ensure a hassle-free installation process, tailored to your specific needs. Additionally, Daikin systems are designed for easy maintenance, making it convenient to keep your system running at its best performance with regular check-ups and cleaning.
Contact us today to schedule a consultation and discover how Daikin Mini Split Systems can transform your home's heating and cooling experience. Trust in our expertise and dedication to exceptional customer service as we help you achieve the ultimate in personalized comfort with Daikin Mini Split Systems.