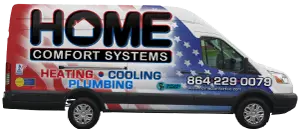 Your Upstate and Midland SC
Furnace Installation Specialists
At Home Comfort Systems, we recognize that every home has unique heating requirements. That's why we take a personalized approach to furnace installations, considering factors such as the size of your home, your heating needs, and energy efficiency preferences.
Our skilled technicians will assess your current heating system, discuss your specific requirements, and recommend the most suitable furnace options for your home.
We work with leading furnace brands known for their reliability, energy efficiency, and advanced features. Our team is well-versed in installing a variety of furnace types, including gas furnaces, oil furnaces, and electric furnaces. We adhere to industry best practices and manufacturer guidelines to ensure a safe and efficient installation that complies with all codes and regulations.