Heat Pump Repair Service in Upstate and Midland SC
Whenever you need the services of a professional, we offer all heat pump repairs for both residential and commercial applications. Our star-rated, licensed, and insured HVAC techs offer full heat pump service regardless of the brand. Heat pump heating or cooling problems are often caused by improper installation or maintenance:
Installation Issues
Improper Equipment Sizing:

If the system is undersized, in extreme weather interior temperatures will not be able to maintained.

More commonly, if a system short cycling without proper dehumidification in cooling mode it is probably too big.
Improper Ductwork: If duct systems are not properly sized areas can be too cool leaving other rooms that are too hot.
Condensate Problems: Water accumulating below your air handler because of an improperly designed drain connection.
Outdoor unit icing problems: In heating mode, the outdoor unit should be free of snow or ice. If the outdoor unit accumulates ice or snow around it base it will cause capacity problems or system failures.
Refrigerant Leaks: Heat pump is not turning on or not cooling or heating properly.
Thermostat not working properly: Improper programming or wiring problems.
Deteriorated Performance Due to Deferred Maintenance
Dirty Filters, Obstructed Indoor Coil, or Obstructed Grill or Registers: Indoor coil or refrigerant lines covered with heavy frost or ice during cooling often indicate inadequate airflow.
Obstructed or Clogged Outdoor Coils: Low system capacity and not cooling properly.
Age Related Component Failures
Breaker Trips: Breaker to the outdoor has unit tripped more than once potentially indicating improper wiring or potential compressor, fan motor, or capacitor failures.
Fan or Blower Motors: A persistent vibration or odd noise with the outdoor or indoor unit
Unusual Odors: Near the outdoor unit, or coming from the ductwork outlets.
If you are having a different problem with your home's heat pump other than the ones listed above that doesn't mean we cant service it. We can diagnose and repair any heat pump problem you're having, large or small.
Schedule Heat Pump Repair
10% Off
Repair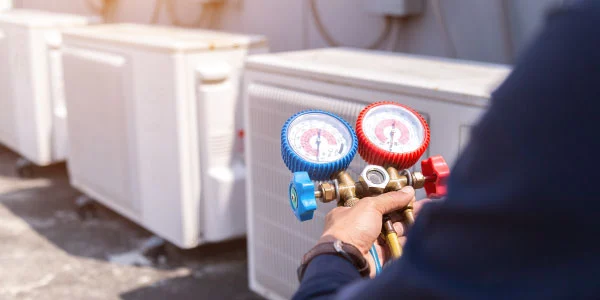 10% Off Any plumbing, heating, AC or generator repair
Contact to Book
Heat Pump Tune-Ups and Installation
If you don't need repair service for your heat pump system, it's always a good time to schedule your yearly heat pump maintenance check. Yearly tune-ups are an essential service for all of your heating and cooling systems. Our team at Home Comfort Systems provides custom maintenance checks for all heat pump makes and models. Every maintenance visit will vary slightly based on your heat pump age and condition, but rest assured after your tune-up your heat heat pump system will be working in prime condition.
We also offer new heat pump installation services for your convenience. Sometimes if your heat pump system is old and needs some serious repair, a replacement system is the best option compared to repair. A new heat pump will be more efficient and more effective, and you will be paying less on your energy bills.