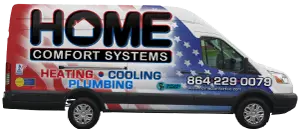 Your Upstate and Midland SC
AC Installation Specialists
New system installations are a big deal, and it's important to size your new AC perfectly if you're building a new home or space with central air.
An improperly sized AC is this leading cause of dissatisfaction with a new air conditioner system. AT Home Comfort Systems we use American Standard and Rheem for all of our new AC installations or for replacement systems.
Both Rheem and American Standard have highly efficient and effective models to meet every need and budget. Not sure what size or model AC is the right fit for your home? Call Home Comfort Systems today to learn about what AC system would be perfect for you, and get a quote on your installation.