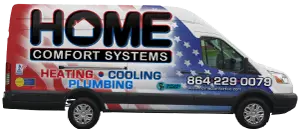 Your Upstate and Midland SC
Duct Cleaning Specialists
Have you had your home's ducts cleaned recently? If you haven't, now is a great time to make sure your central air ducts are dirty, because dirty ducts lead to poor indoor air quality.
Home Comfort Systems is your duct cleaning specialist in Greenwood and the surrounding area. We use state of the art equipment to clean your ducts thoroughly, removing dust, dander and other particulates. Clean ducts equals clean air for your home, you and your family will be happier and healthier with regularly cleaned ducts.