Ductless Heat Pump Tune-up Checklist
Regular tune-ups help reduce repair costs over time and contribute to the long-term longevity of your equipment.
Additionally, regularly cleaning and lubricating will result in maximizing efficiency as well as assist in attaining the greatest possible energy output from your unit.
System Inspection
Document the entire system and visually inspect all components and their refrigerant connections, and document any immediate areas of concern.
Ensure the outdoor unit(s) are level and draining properly.
System Preliminary Test
Start up the heat pump and operate in each indoor zone in both heating and cooling modes. Identify and unusual operating conditions or noises.
Outdoor Unit(s) Tests
Examine outdoor blower motor blower and fan and verify smooth operation.
Visually inspect capacitor
Inspect the contactor for burn marks or signs of ware
Check all entering high voltage, indoor unit power wiring, and and control wire connections
Inspect the outdoor unit coil for damage or anything that might obstruct airflow and clean as necessary
Check the outdoor disconnect
Check the refrigerant line connections and insulation, and ensure they are properly supported
Indoor Equipment Tests
Check indoor unit(s) to ensure they are level and secure
Inspect the indoor unit filters for dirt or debris and clean as necessary.
Inspect the indoor coil to ensure that it is clean, and clean if necessary
Check the condensate lines and any condensate pumps in the system
Check the condensate system to ensure that it is pitched properly and secure. Check and condensate pumps in the system.
Start-up System and Test
Operate each indoor zone in the system in both heating and cooling modes
Test wired thermostats and hand-held remotes for operation and replace any control batteries as needed
Measure and document the outlet temperatures on each indoor unit
Measure and document the outdoor unit amp draw
Clean Up
We'll pick-up our tools and thoroughly clean our workspace
Visit Report
We'll explain our work and document any potential problems or recommended repairs
Schedule Mini-Split Maintenance
10% Off
Repair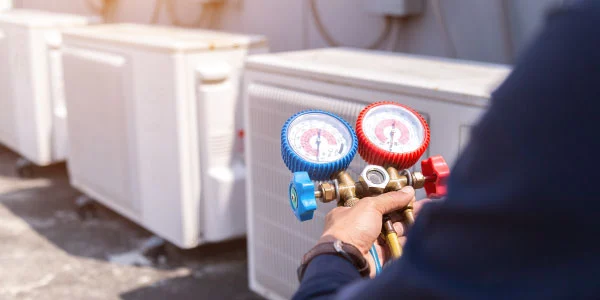 10% Off Any plumbing, heating, AC or generator repair
Contact to Book
Ductless Mini Split Repair
Sometimes even with proper maintenance mini split systems end up needing repair for something or another. The good news is that if you're in or close to our home in Greenwood, SC then prompt repair is just a call or click away.
Home Comfort Systems is your ductless mini split repair expert, and our factory trained technicians can work on all mini split makes and models. Ready to schedule your needed service or repair? Get in touch with our team today for your service.
Mini-Split Repair